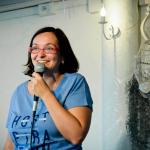 WordPress Community Manager
Experience level
Beginner
Summary
WordPress.org is an open source project created and maintained by a community of users. Its mission is to democratise publishing through open source software.
WordPress is a global and inclusive project made up of hundreds of thousands of people that meet online, through Slack, and team blogs. 
However, offline and in person is where the true magic happens. From a single event in 2006 (WordCamp San Francisco), we now have hundreds of meetups every month and over 120 WordCamps each year.
They are all organised by volunteers, including the two flagship events: WordCamp Europe and WordCamp US, that have now over 2,000 attendees each year.
In this talk I will tell the story of the WordPress events, how they evolved through the years, how the WordPress Community Team supports them, and how we organise our web presence and communications.
Description
I always find it very interesting to learn how other open source projects organise their events. I think exchange of information is vital for growth and I would love to introduce the WordPress community way of doing things to the Drupal community and hopefully hear the Drupal community feedback so we can all do better together.
I will focus mostly on offline events because I truly believe that nothing can substitute face to face interaction.